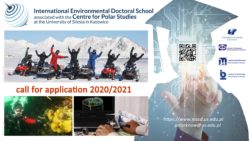 We kindly ask you to read offer and invite you to apply to the International Environmental Doctoral School associated with the Centre for Polar Studies at the University of Silesia in Katowice (IEDS) . Registration of candidates in the IRK system is available to 27 August 2020!
The IEDS educates young scientific staff at the highest standards in cooperation with the renowned scientific and academic centres.
The IEDS is a joint unit of the University of Silesia and Institutes of the Polish Academy of Sciences: the Institute of Geophysics, the Institute of Mathematics and the Institute of Oceanology.
The doctoral studies are carried out in three academic disciplines: Mathematics, Earth & related Environmental Sciences, and Materials Engineering.
For details on the IEDS and the admission process please visit: https://www.mssd.us.edu.pl/en