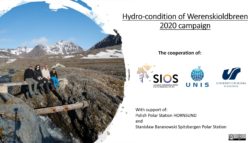 The ongoing pandemic has limited research activities in Svalbard, including the possibility of organizing the fieldwork campaign 2020 as part of the project "Hindcasting and projections of hydro-climatic conditions of Southern Spitsbergen" (RiS 11198) in the Werenskiold Glacier area (Wedel Jarlsberg Land, Spitsbergen).
The SIOS Logistics Sharing Notice Board platform proved to be a helpful solution! more about this form of cooperation -> https://sios-svalbard.org/logistic-notice-board and about fruitful fieldwork: https://sios-svalbard.org/News_20200703
as well as in the short movie:
Many thanks to
SIOS  – Svalbard Integrated Arctic Earth Observing System and UNIS – the University Centre in Svalbard
for excellent contribution and logistic & financial support!